Google being 'alarmist' claims Symantec
The four-month row between Google and Symantec over SSL certificate issuing has just gone nuclear, with the Chocolate Factory making good on its threats and beginning a blockade.
"Over the course of the coming weeks, Google will be moving to distrust the 'Class 3 Public Primary CA' root certificate operated by Symantec Corporation, across Chrome, Android, and Google products," said Google software engineer Ryan Sleevi.
"Symantec has decided that this root will no longer comply with the CA/Browser Forum's Baseline Requirements. As these requirements reflect industry best practice and are the foundation for publicly trusted certificates, the failure to comply with these represents an unacceptable risk to users of Google products."
Sleevi said that Symantec had informed Google that the root certificate would be used for purposes other than for publicly trusted connections, but isn't saying what else they might be used for. As a result, it's on Google's naughty list.
"Symantec has indicated that they do not believe their customers, who are the operators of secure websites, will be affected by this removal," Sleevi said. "Further, Symantec has also indicated that, to the best of their knowledge, they do not believe customers who attempt to access sites secured with Symantec certificates will be affected by this."
Read More by Iain Thomson
Independent tests of Mac antivirus products have discovered that the effectiveness of these security packages runs from a risible 20 per cent to an unimpeachable 100 per cent.
German security lab AV-TEST.org put 18 free and paid-for Mac OS X security products and services to the test, discovering widely differing performances in the process (results spreadsheet here). Poor performers included Webroot SecureAnywhere (19.7 per cent scan detection), McAfee Internet Security (26.5 per cent) and Trend Micro Titanium (38.5 per cent).
By contrast, Bitdefender Antivirus for Mac, G Data Antivirus for Mac and Norman Antivirus for Mac aced the test. Avast! Free Antivirus and Sophos Anti-Virus both scored in the high 90s for detection. However another freebie scanner, Avira Free Antivirus, only achieved 68 per cent. Norton Internet Security from Symantec achieved a mediocre 54.7 per cent in the scan test.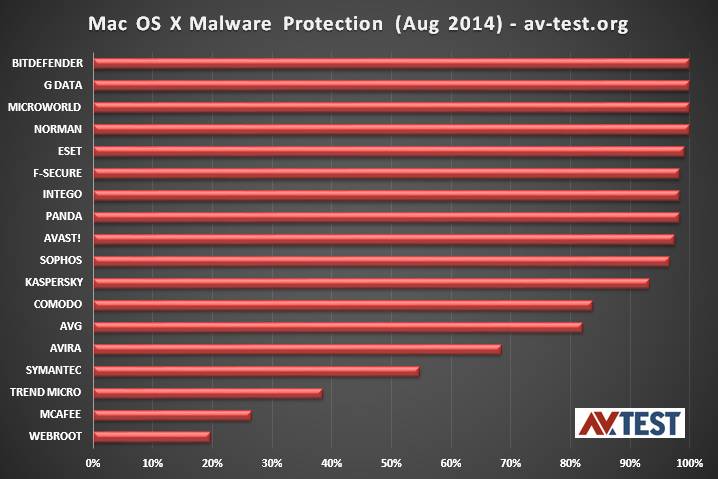 Mac attack
AV-TEST.org's testing methodology involved installing the security products on identical iMacs that were all connected to the internet, so the products could also use their cloud and reputation services. All the products were updated using the built-in functionality before each of the products was run through its paces with a series of on-demand scans and on-access tests fearing around 115 Mac OS X malware samples. The mixed results surprised the well-established security software testing house.