Archive for the 'Virus' Category
Independent tests of Mac antivirus products have discovered that the effectiveness of these security packages runs from a risible 20 per cent to an unimpeachable 100 per cent.
German security lab AV-TEST.org put 18 free and paid-for Mac OS X security products and services to the test, discovering widely differing performances in the process (results spreadsheet here). Poor performers included Webroot SecureAnywhere (19.7 per cent scan detection), McAfee Internet Security (26.5 per cent) and Trend Micro Titanium (38.5 per cent).
By contrast, Bitdefender Antivirus for Mac, G Data Antivirus for Mac and Norman Antivirus for Mac aced the test. Avast! Free Antivirus and Sophos Anti-Virus both scored in the high 90s for detection. However another freebie scanner, Avira Free Antivirus, only achieved 68 per cent. Norton Internet Security from Symantec achieved a mediocre 54.7 per cent in the scan test.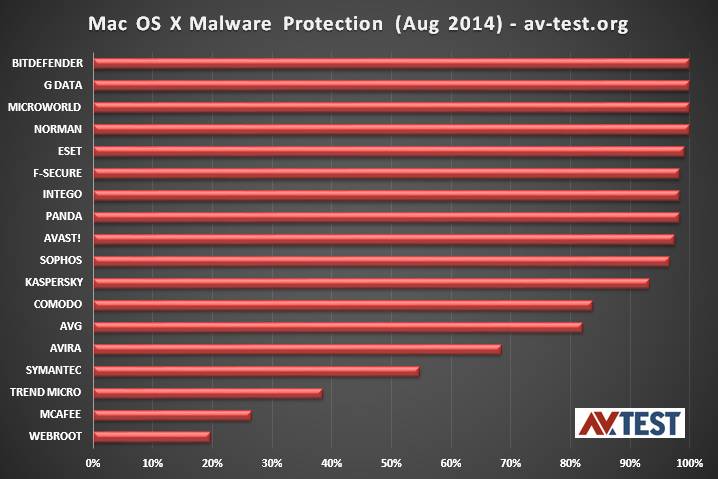 Mac attack
AV-TEST.org's testing methodology involved installing the security products on identical iMacs that were all connected to the internet, so the products could also use their cloud and reputation services. All the products were updated using the built-in functionality before each of the products was run through its paces with a series of on-demand scans and on-access tests fearing around 115 Mac OS X malware samples. The mixed results surprised the well-established security software testing house.
Fear of fine trumps fear of breach for banks
Tens of thousands of ATMs will be running Windows XP long after Microsoft's deadline to abandon the operating system ahead of a potential hacker storm.
Just a third of the UK's 60,000 ATMs will be upgraded from Windows XP before the end of this year, according to the biggest supplier of those machines – NCR.
But it will be 8 April when Microsoft actually stops releasing security patches for Windows XP and when systems still running the OS will be open to hackers writing new malware and devising fresh attacks.
NCR – which supplies 60 per cent of the UK's cash points – believes 95 per cent of Britain's ATMs are today still running Windows XP with less than a month to go.
NCR told The Reg it has been working with Microsoft for nearly three years through workshops and sales camps to persuade banks to upgrade their ATMs.
Cowed victims hand over thousands rather than install basic security measures
Around two in five people who fall victim to CryptoLocker have agreed to pay a ransom of around £300 to recover their files, according to a survey of victims.
Researchers from the University of Kent quizzed a total of 48 people who had been affected by CryptoLocker. Of the sample, 17 said they paid the ransom and 31 said they did not.
CryptoLocker encrypts files on compromised machines. Compromised files become unintelligible and unrecoverable – unless victims have made back-ups – without paying crooks an unlock fee, which skyrockets to as much as four Bitcoins (about £1,350) unless victims cough up within a 72 hour deadline.
Read More by John Leyden,